Package:
Handset
Battery
Manual
Charger
Case
Hand- and a neck-strap
CD with software (synchronization via IrDA)
For marketing specialists in some companies word "design" serves as some kind of a fetish, which in their opinion can explain some functional errors, high price, low attraction to a customer. No doubts, a general tendency is to the fore, more and more phones attract customers with design, and only then with their capabilities. Sometimes design even stands above functionality, and then it is sacrificed to the fashion component. That is typical for big manufacturers with famous trade mark, but not for the second echelon makers. Here they conform to different rules. And unordinary design is typical (that is how the makers try to distinguish). And that is even stranger for Alcatel starting a project of its fashion phone against the background of absent top solutions capable of making the filling of this phone. The Elle magazine was selected as a partner. And one French fiend of mine told quite a neat idea - "when one French company finds another French company, then you should expect them not only deceive each other, but try to sting a customer as well". However this collaboration seems more organic than B&O with Samsung, since there the cultures are different. For instance, you can just visit a Russian site of B&O to understand that buying their products means wasting money (check the quality of the translation, the content filling and so on). So, the two French companies gathered together and created a phone for Elle women readers and worshipers of this life style.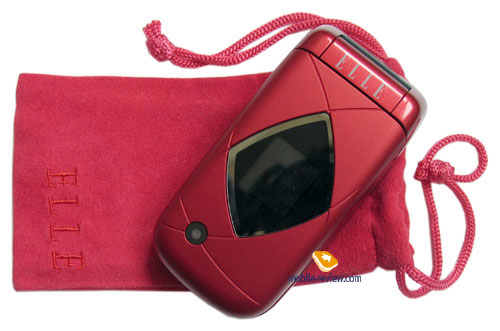 The audience is girls who prefer to watch pictures much, think little and buy much for somebody else's money. As the market specialist called that is a high-income audience, women without a constant job and occupation (mainly, however a giant circulation brings on certain thoughts). That sounds quite contradictory, but the presence of a husband, a boyfriend or a lover may explain it all. No doubts some of those ladies wishing to become glamorous blondes are among them and the magazine is some kind of a guide to this different world for them. And in fact these ladies are a target group of the Elle, as the phone is quite plain for high-income women both in the appearance and in a trade mark. They will surely prefer Nokia, Siemens SL55 Escada and so on.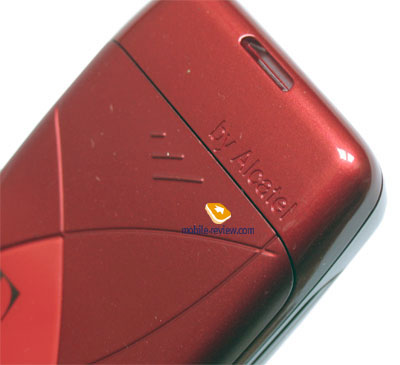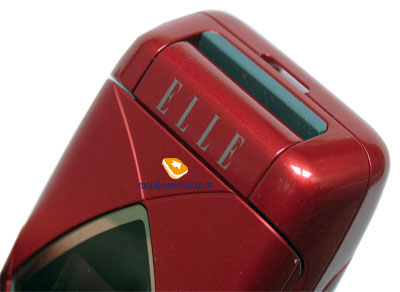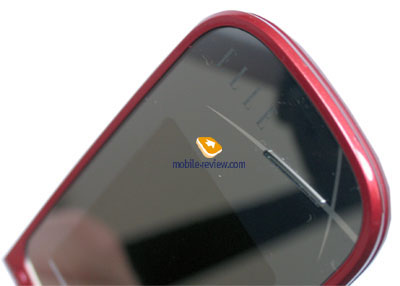 The phone package should put on a false front and sell the product like the magazine gloss. This fact is well-known in the Elle and hence the phone package looks just perfect - that is a transparent blister with a simple note Elle № 1. The manufacturer's name is almost invisible and merges with the box colour. Two colours of the handset are available - red and black. Both cases provide a dull velvety plastic (soft touch), which is pleasant by touch. The clamshell's parts and a part of the back are on the contrary of a usual lacquered plastic. A velvet sack is included into the package, which can be used for wiping the screens.
The phone dimensions are quite big for a woman model and form 91x46x23 mm, and at the same time the weight is quite acceptable - 90 grams. You will find it rather uncomfortable to carry the phone on your neck due to the size.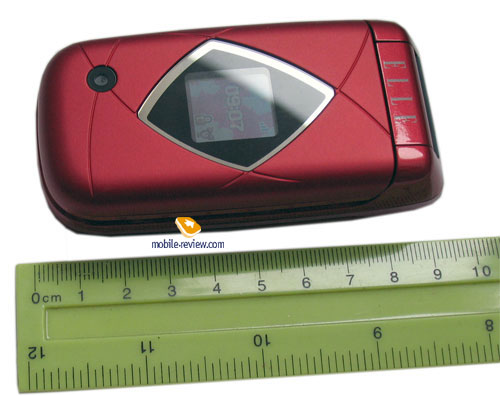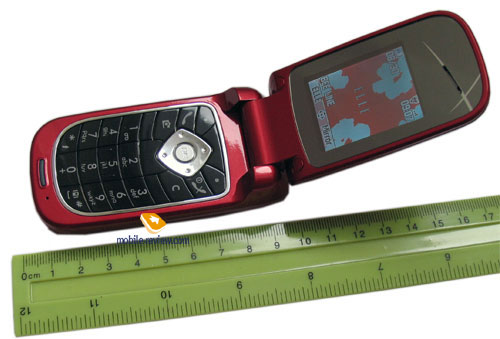 A rhomb-shaped insertion on the front panel hides the external screen, and a mirror surface rounds the edge of the insertion. That may be quite good from the design point of view, however, it seems no common sense is present. The mirror surface starts flaring in the sun, which crosses over the screen tanning and makes the display unreadable (remember that is an STN matrix). The screen resolution is 128x128 pixels and 4096 colours are shown. Time, battery and signal level, icons of the current events are shown on the display. Only an incoming call or any other event can activate the display in the standby mode. Due to the absence of side buttons a user can't turn on the backlighting.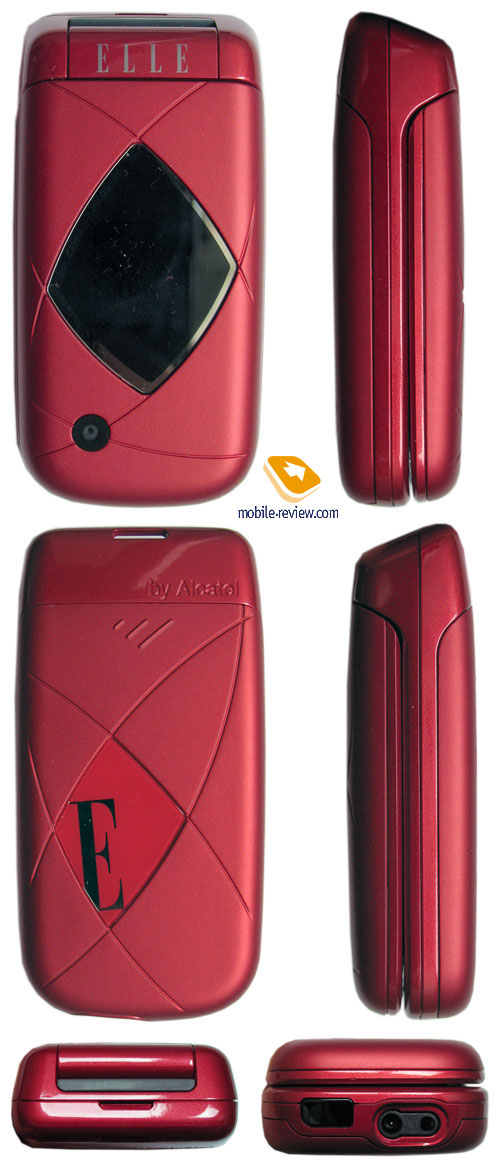 A VGA camera objective is placed under the display, and it really is equal to the majority of ones integrated into company's models. In general the device is technically a copy of Alcatel C652, no differences.
An Elle strap with a corresponding label is included into the kit. You can turn this neck strap into a hand one by cutting it. An IrDA gap is placed on the bottom of the device. There is a charger connector and a headset one there as well.
You can open the clamshell with one hand actually. A special covering was applied for the screen, now it can turn into a mirror. The resolution is 128x160 pixels (28x36 mm), and about 9 lines feature it (4 of them are service lines). Typically of STN matrixes, the screen fades in the sun. In a word, the matrix can be characterized as a two-year-old solution, now such screens are typical of low-end products.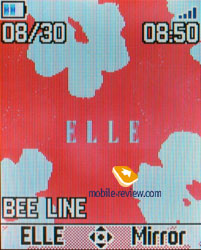 The keypad block distinguishes due to the black colour, buttons of lacquered plastic, they are average in size. In general the keypad is quite comfortable, however makes an impression of plastic in a cheap Chinese toy, which can be found n a market mess. The buttons are designed carelessly; here is a silvery edging around them, and a corresponding colour of the navi button and another colour of the Ok button. The designers probably had an impression of how to mix the colours, but they didn't know how to do it beautifully, or they didn't want to know it at all. Anyway, that is a matter of taste, and you can pay no attention to my grumbling.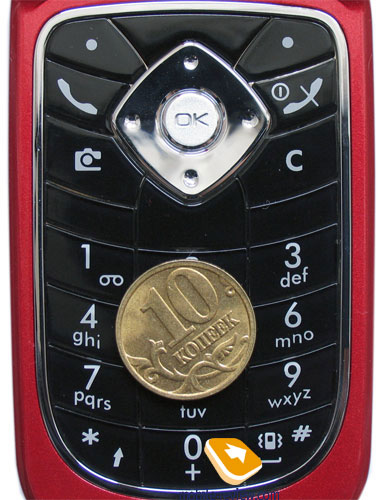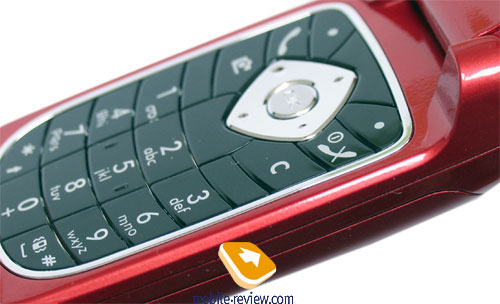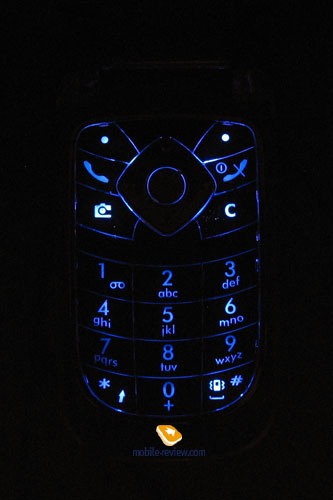 The battery is 650-mAh Li-Ion. According to the manufacturer it is capable of working for up to 290 hours in the standby mode and up to 4.5 hours in the talk mode. In Moscow the device worked for about 2 days with 35 minutes of talking and up to 20 minutes of using other functions. The battery life should be considered equal to 2 days, since it works more only with significantly less talks. Full recharging takes about 1.5 hours.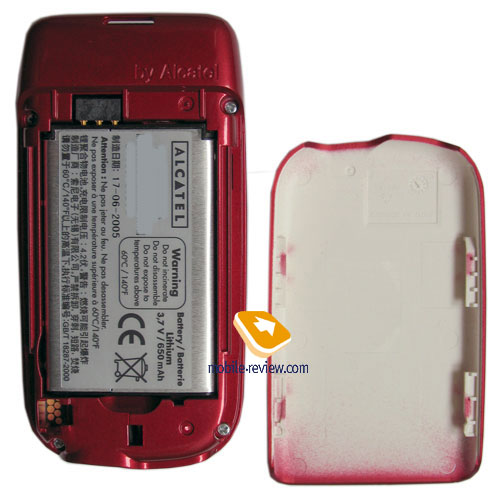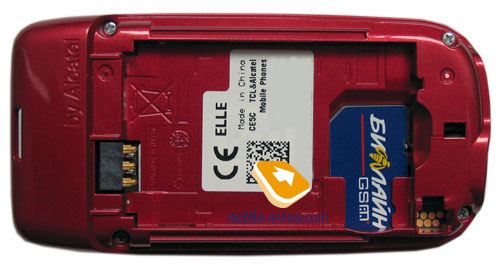 Menu
The menu is organized very typically of Alcatel phones, not speaking about Elle stylized wall-papers, another game set created especially for this device. The minuses are prevailing red colour in the menu, that is the font-colour at dialing, and considering the peculiarities of the localization the input seems not adequate (thin red letters are badly read). The main menu is represented only in one way (the previous models had three appearances). Small icons show all the menu items on the screen, three columns with four icons in each.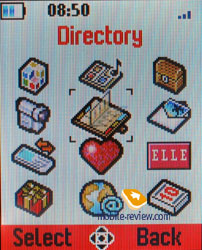 A memory bank of 32 MB of memory is provided, which is distributed as required among all applications. Fast navigation using number sequences is applied, you can assign tags to the functions, and then they will available in one touch.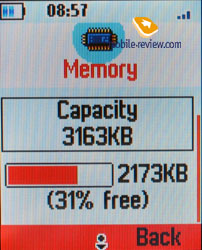 The functions are represented as lists in submenus and, by the way, gathered in groups. It is better to explain using the example of Messages. On entering the menu you see a row of icons with Create a message distinguished on top. You can choose a message type from a list by just moving the joystick horizontally to see received or sent messages and another list will appear. At first sight this organization looks quite complicated, but it is fast easy to get used to, it is logical and helps relieving the menu, thus there are no conglomerations of items opposite to other manufacturers. In general the organization of the menu impressed well, they are all thought over. There is a special bookmark for images in a library and the one for icons.
Unfortunately, the localization remained the same. Russian characters became clearer, but the Cyrillic inscription greatly differs from the English one. Russian letters are light and thin and the font is hard to make out. The combination of Russian and English looks weird because of the difference in the characters' drawing. This model is one of the last with such a disadvantage, later the company plans to redesign all the fonts for Russian language and make them of a uniform style.
Phonebook. The phone's memory is divided into several directories. There is a separate directory for the contacts kept on the SIM-card, in addition to that, there exist three more folders by default-a General, a Business and a Personal one. The user can create directories of his/her own; they serve as different groups of users in this phone. You can assign a call melody to some of the folders; however, you cannot do it for standalone files.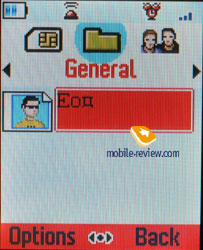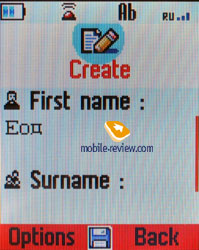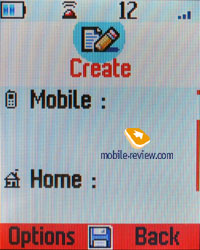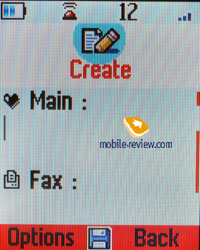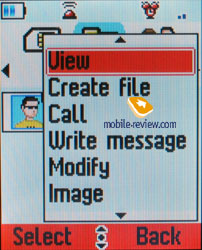 Up to 26 fields may be filled for a name, they are Name, Surname, up to 7 numbers, two e-mail addresses, home page URL, Nickname, Birth date, Company name, Position, Address, City, Region, Post index, Country, a field with notes and up to 4 fields with extra information. The only drawback is when entering a new contact you'll have to scroll all the fields gradually to reach the necessary one, you can't do it at once. Voice marks may be assigned to separate entries, and then voice dialing is possible for those names. There is a search by the first letter of a name.
It is possible to assign a picture or a video clip from preset ones or loadable ones to every entry in the phone. The phone supports work with files of: JPG, GIF, aGIF, PNG, BMP and WBMP standards. Video standards supported are 3gp (H263/AMR, MPEG4) and .mp4.
There is no limitation on the number of entries, everything depends on the free space (not more than 500 considering memory size).
Messages. Besides working with SMS, the device also supports MMS and EMS standards. Working with all the message types is ordinary and rouses no problems. You can add smiles, pictures, melodies and/or wap-browser tags into the body of a message. Several slides are possible to create for MMS, the capacity limit forms 100 KB. A message may be sent to a single user or a group. There are Russian and English T9.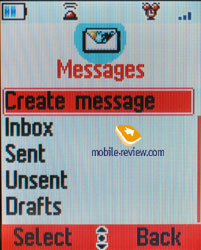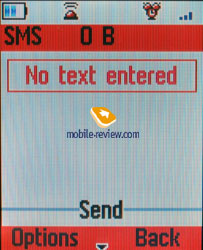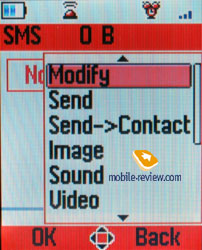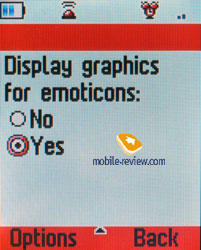 Personalization. Almost everything concerning the phone settings is here. Choose a melody, a call type, adjust the menu appearance, set a picture for the main screen, adjust "hot" keys etc. You can set vibra only, vibra and a melody at once or vibra then a melody. In short, there are many signal type settings that will be up to you.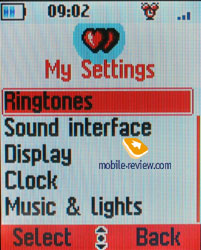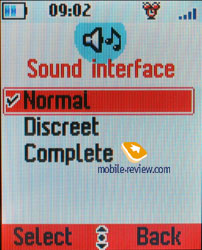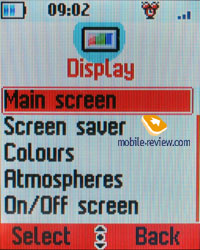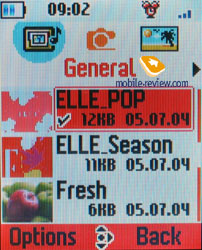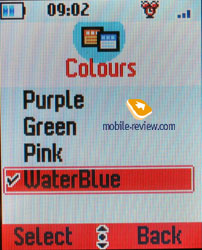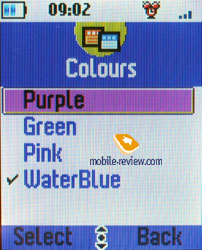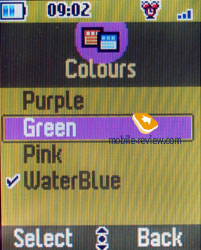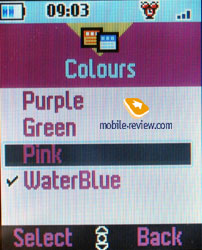 You can set a picture or a video for the screen, choose the way the main menu is represented and set color schemes. An interesting function is Atmosphere (a set of pictures, interface color scheme and a melody). While viewing, you not only see the design but hear a call melody selected, and of course, nothing prevents from doing it all separately.
Call log. A list of calls - missed, incoming and outgoing. Everything concerning voice dialing is also here.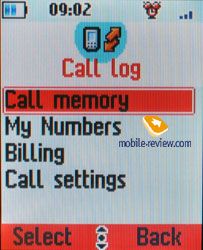 Fast access. Create a personal menu for accessing the necessary menu items, phone book contacts and Internet addresses.
Tools. This menu holds an organizer. You can view either weekly or monthly or in a list that shows all planned events. The monthly view is quite handy as events are divided by dates, for instance, 14.03-20.03, 21.03-27.03 etc. The events are the following - a meeting (date, time on and off and text note), a birthday (date and name) and a call (there are also reminders which has priority and time off).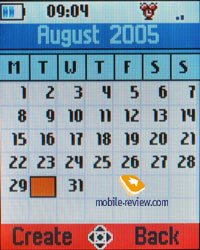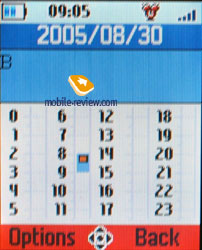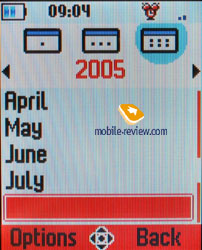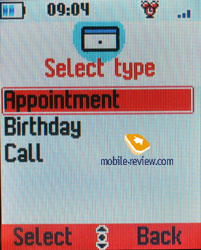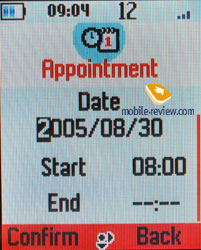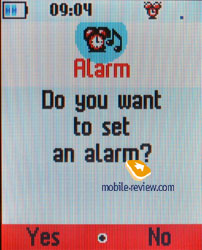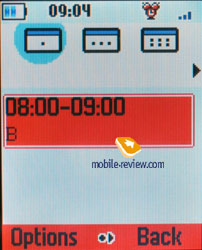 Two alarm clocks are present. One is set for a precise date and another one is everyday. A timer is also here.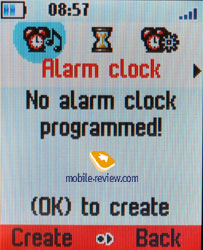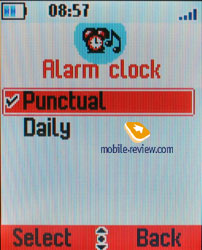 A plain calculator and a currency converter are present.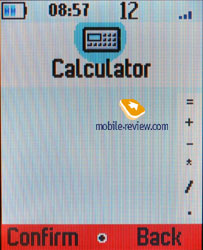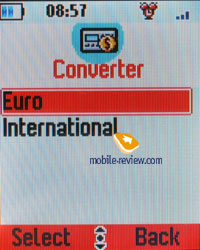 You can create a personal melody by notes or record it on a Dictaphone from an external source. The limit is 60 seconds.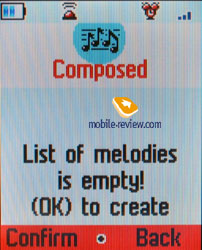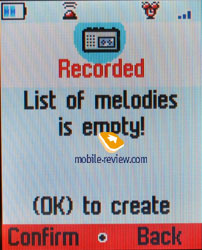 Voice commands are assigned to a necessary menu item.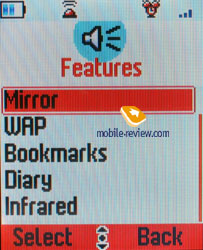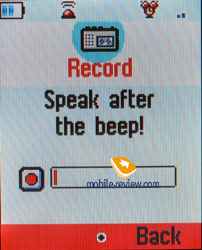 In the Signal item a list of meetings, notes with a signal assigned and an alarm clock are shown.
Here you can activate IrDA.
Tips & tricks. Holds pieces of advice for work with the phone.
Services. Provides an access to SIM menu and WAP - to My One Touch site.
WAP. The browser in the phone is of 2.0 version, there are no particularities here.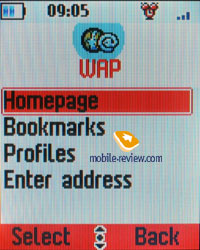 Games. The phone is equipped with two games, one of them is Queen of the Mole (you hit suddenly appearing faces with a hammer, nothing interesting), the second is Rabbit Fitness (some kind of Tamagotchi, quite a nice game). You can download new games (only using the wap). Since the phone is for women, you can find a utility for counting a menstrual cycle.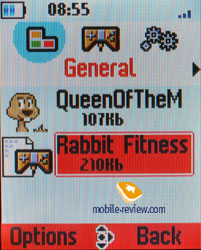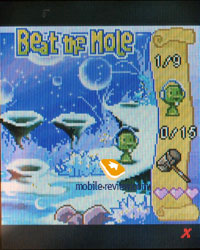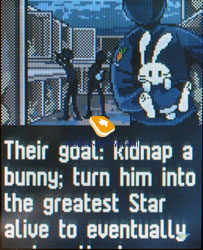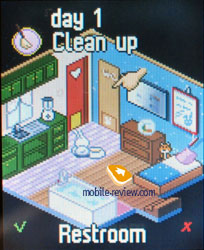 Multimedia Album. All the pictures and melodies are here. The range of the pictures and melodies is very large and in this sense, the phone is great. The selection of droll and funny pictures is such that you just do not know where to start choosing from. Several funny video clips are also preset in the phone.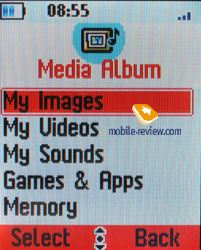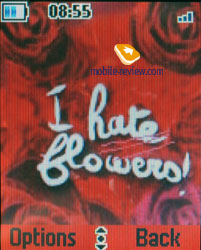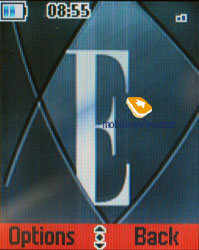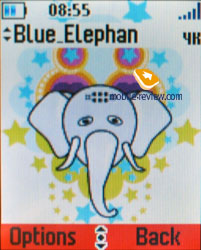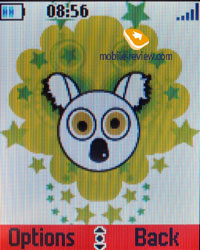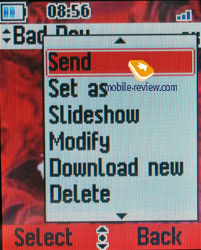 Camera. The pictures can be taken in the resolution of 640x480, 352x288, 128x128, 64x64, 32x32 and 16x16 pixels. There is a big scale shooting mode offered for which the image is scratched horizontally. In any case, the picture format is JPEG and there are three different dimensions and quality types available (high, standard and economy).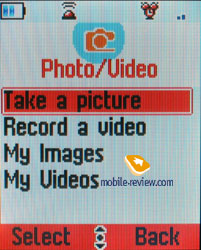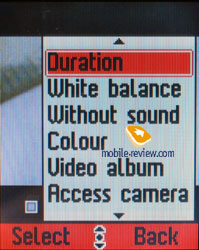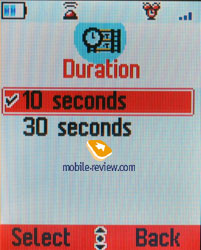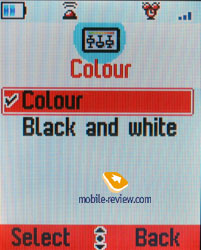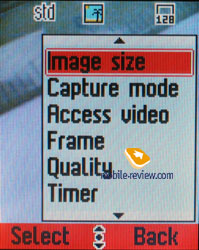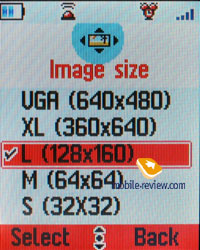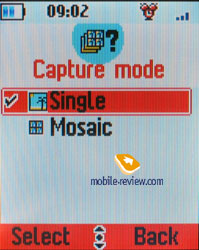 The phone's display is used as a viewfinder. The interface has been thought through in all the details so while shooting you can change almost every image parameter with several presses. The function of the number keys 1, 2, and 3 is to tune in the quality of the required size of the screen. The left soft key is there for the color choice (color picture, white and black, Sepia, Negative, Thin or contours).
With the # key you can quickly switch the picture resolutions, while the * key offers a set of several special modes. One of the modes is the option to create a GIF file using four shots. This means that you take four sequential shots, which then immediately turn into an animation in your phone. One restriction here is the resolution of 128x128 pixels that the developers found mostly convenient to save memory. The function is truly unique and adds to the phone's exclusivity especially since other manufacturers have nothing similar to offer yet.
Another special shooting mode is the mosaic. This mode allows you to take four pictures (32x32 pixels) and then pleat them into one complete image (128x128).

The phone is equipped with a timer for the shooting with a delay. I am not to judge how necessary this function is but I find the Exposure setting more interesting. This function controls the lighting conditions by default although you can identify them yourself. In most cases, the automatic Exposure is sufficient.
You can choose the folders where the pictures will be saved and can be taken out of for the MMS screen savers, by default.
You can use the frames for the pictures with the resolution of 128x128 pixels. This is a sort of an effect when you border the picture with a frame while shooting. Another exceptional feature of the phone is that you can download the frames' files (PNG format) from PC, which means that you can create the special effects of your own. No phone has a similar function although the frames are used in many of them.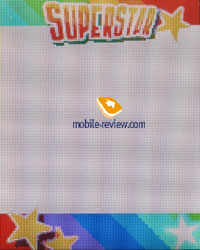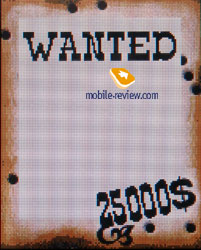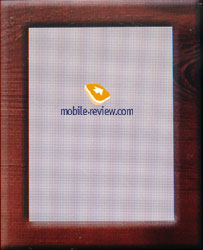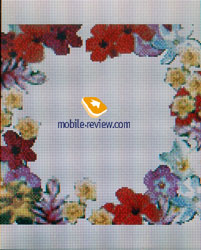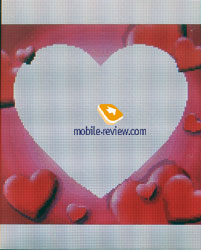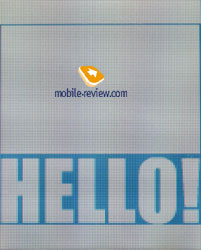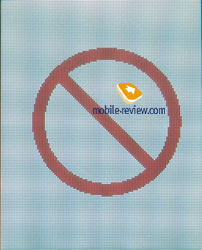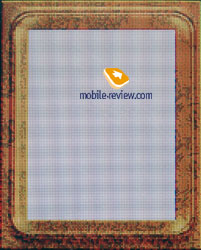 The phone is also empowered with a digital eight times zoom that you can activate by moving the joystick away from you. The zoom function is followed with a sound resembling the one the objective in digital cameras produces when moving - sounds rather funny.
The pictures look not bad on the phone screen and quite acceptable on a PC. The only disadvantage is that the corners are degraded.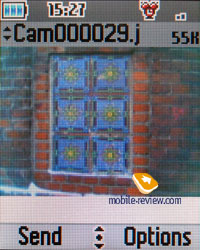 Photo sample outdoors, 640x480, 55.1 KB, JPEG
Photo sample outdoors, 640x480, 40.7 KB, JPEG
Photo sample outdoors, 640x480, 42.3 KB, JPEG
Photo sample with effects in an archive, ZIP, 139 KB>>>
Photo sample with zoom in an archive, ZIP, 262 KB>>>
The video is recorded in 3GP format with a limitation of 93 KB or 9 seconds for MMS messages. You can also record video with no limitations, to be precise, until the memory is empty.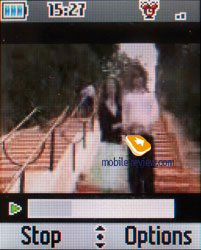 Video sample (3GP, 298 KB)
Video sample (3GP, 93.7 KB)
Video clips are shown not full screen, slight slow down is observed when playing them, probably, and the processor can't cope with this load. Though the clips are of a normal quality.
Impressions
This is a typical Alcatel solution with no peculiarities. As for the connection quality, the phone has no problems, the loudspeaker volume and microphone sensitivity is enough in any condition, whether that is an office or a noisy street. The signal volume is enough, it is well heard even under winter clothes. At the same time the vibra is average in power, it may be missed. The speakerphone is realized qualitatively.
The absence of mp3 support is not modern and really restricts the phone customers. You can use both midi and SMAF files for the 40-tones polyphony. Many preinstalled melodies and many of them are pleasant.
You shouldn't estimate the phone from the point of functionality. It pretends on the title of glamphone (a special site glamphone.com exists and in Russian also). Mainly the Elle №1 is an accessory for ones who desire to distinguish though having not much money doesn't save it supposing that is customary in high society. That is a manner of behaviour dictated by the glossy press, and only young ladies are under its influence. I really do not want to offend people who study the Elle as their job (excuse me ladies), however ones reading the magazine are quite specific and are described in the beginning of the review. In one word, people who read this material do not belong to the category of "non-occupied women with high income". And in general I am not attracted by the idea to cultivate idiots for trading a service or a product. However that is not hard to promote products for this audience, they will have a high margin or so called extra for the customer's folly.
The distributors' desire to make a fortune on this model is quite understandable, but why does the retail price form 400 USD in December? Really that cannot exceed 200-230 USD, then that is quite an adequate solution (that is the phone price considering the current wholesale price). That is clear you can put even a carrot on the counter in December, and people will buy it. But why is it necessary in a long-term perspective?
Now the market is not spoiled with phones for women, however you can remember Samsung E530 at once, this phone has a more qualitative plastic, a modern screen with the resolution of 176x220 pixels, much memory, mp3 support, Bluetooth and wide advertising support. Now it costs 350 USD and is positioned really higher than the Alcatel's solution. To collect rivals, we can widen the list much; many phones have the same fashion supply than the Elle №1.
P.S. Especially for regional distributors. If you do not rush for extreme benefits and high margin, you can sell the phone, as it will have moderate sales. Since I bet there are glamour girls or ones aspiring to that in your cities as well. I do no think they care our opinion, and they hardly know what the Internet is.
P.P.S. The World went crazy. Sometimes products cross the edge between the good and the bad, and market specialists being in self raptures consider the target group blind, deaf and having no impressions of a phone, though having money. I really do not like such reviews and postpone them as long as possible. And only independent press can explain the real situation on the market to the manufacturers, they are in so ecstasies with their developments that cannot look at their results critically. And when the gap between the models is measured in generations and positioning refers to fragile style, we can only stay in a loss how to react. That is a pity Alcatel doesn't continue the development of its middle segment and doesn't concentrate on the S853, but carries out such dubious experiments.